Supports

emotional balance
However busy life gets, it's critical to maintain emotional stability. Prolonged mental and emotional tension amongst busy people can contribute to anxiety - it's why we developed Chill Out. A unique blend of essential 'mind' ingredients, it includes ingredients like Magnesium Citrate, and Ashwagandha powder, a powerful, natural adaptogen to help your body calm and adapt for emotional stress. While Chill Out supports your body's own ability to maintain calm and rest, its natural herbs help support your body's nervous system health - just what you need at the end of a long day.
Chill Out

is
for you if…
You're feeling in a regular state of general overwhelm,
You experience sleep difficulties because of your racing mind and can't slow down',
The tiredness and fatigue you feel is contributing to your immune system 'tanking'.
Slow down to speed up, maximise your downtime to rest and restore. Support your emotional wellbeing with our active ingredients and adaptogens to help nourish your body.
Support

your mental and emotional wellbeing
Help maintain emotional stability with our calming blend of natural ingredients
Ashwagandha powder supports your brain and body to help lower feelings of stress and anxiety. Considered a 'herbal hero', its adaptogenic properties contribute to optimal mental and cognitive activity which adds to its general rejuvenating effect.
Rhodiola (rosea root powder) A mountainous herb from Europe and Asia, it's a powerful adaptogen to help your body maintain emotional balance and adapt for emotional stress. It also helps maintain the nervous system. Rhodiola is great for your circulatory system, helping to provide your cells with oxygen and other nutrients.
Magnesium Citrate Commonly known as 'nature's relaxant'. As well as taken in supplement form, it is often added to baths to create a relaxing and calming treat.

Passiflora Incarnata Helps to maintain calm rest and sleep to induce relaxation. With a sense of improved mental health and it's stress-relieving qualities, Passiflora Incarnata, which is commonly used by Native Americans, also supports nervous system health.
Vitamin B6 (Pyridoxine) Shown to contribute towards normal psychological function which can help support optimal brain health and reduce anxiety. Vitamin B6 (Pyridoxine) also contributes to normal homocysteine metabolism (due to the increase of B Vitamin intake).
Vitamin B1 (Thiamine) Helps the body to use carbohydrates as energy. Another B-Complex vitamin, Thiamine not only contributes to the normal function of your nervous system and psychological function for a healthier mind, but your heart too.
That's right, we're done. You're not meant to know this, but up to 90% of multi's are FULL of unnecessary artificial fillers, excipients, and bulking agents - the manufacturing "nasties".
Essentially 'fillers' bind nutrients for faster, cheaper production of lesser quality products. Instead we use small amounts of natural fillers like alfalfa or whole food powders, so Jetfuel gives you clean, high-quality, absorption rates and bioavailability. That's it.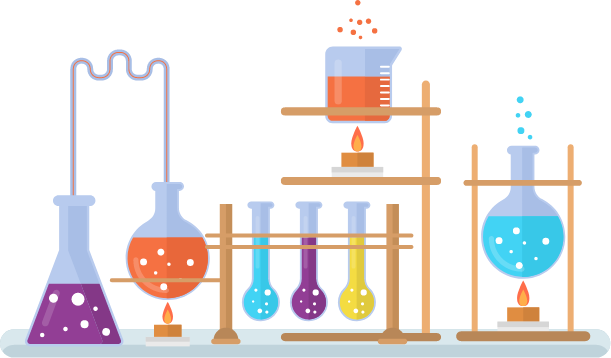 6 active ingredients,

1 plant-based veggie capsule
An adaptogen that helps your body adapt for emotional stress.
---
Supports periods of mental, nervous tension and of anxiousness. Helps the body deal with stress and maintain mental balance.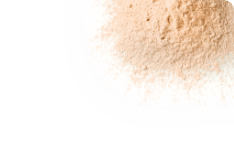 An adaptogen that helps your body adapt for emotional stress.
---
Helps your body adapt for emotional stress and helps obtain emotional comfort to cope calmly with stress.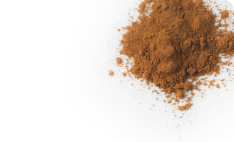 Commonly known as 'nature's relaxant'.
---
Commonly known as 'nature's relaxant'.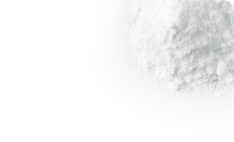 Helps to induce relaxation and maintain calm rest and sleep.
---
Helps to induce relaxation and maintain calm, rest and sleep.
Contributes to the reduction of tiredness and fatigue.
---
Contributes to the reduction of tiredness and fatigue.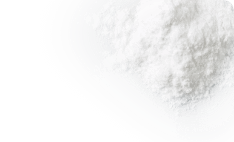 Contributes to the normal function of the nervous system.
---
Contributes to normal psychological functions including the normal function of the nervous system.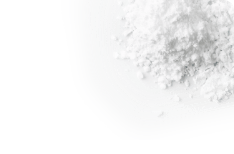 Our Hero Ingredient

Ashwagandha Powder - the adaptogenic herb
This ancient adaptogen is one of nature's "chill out" herbs and helps the body deal with and adapt to stress. This is because of its natural ability to support relaxation and those times when you feel a little anxious or stressed out when you need emotional balance.

Where does Ashwagandha powder originate?
A small evergreen shrub, Ashwagandha (scientifically known as withania somnifera) is a plant native to dry regions of India, but also grows in parts of Africa and the middle east.
Filler-free

manufacturing
We only use high performance, quality ingredients in their most absorbable form, filler-free.
How our Ashwagandha is manufactured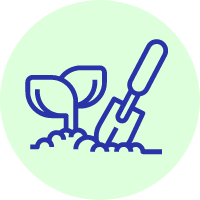 1. We extract
Root extraction from the shrub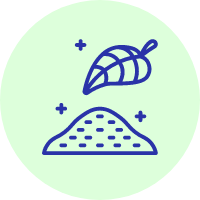 2. We pulverise

Grind into a fine powder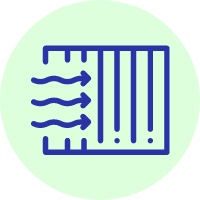 3. We extract, again

Cold extraction and filtration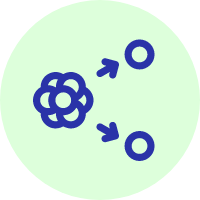 4. We separate

Separate root powder from other elements with polar solvent

5. We filter and dry

Final filtration and drying process

Our

plant based

veggie capsules

100% vegan, made from plant-derived "Hypromellose" (HPMC) - a veggie gelatin since the 90s.
Easily digested for fast absorption. Since our Hypromellose caps are pH-independent, they remain 'intact' for longer as they work their way through the digestive system from the stomach to the intestines. This ensures a higher survival rate of active ingredients from the stomach acid, so they can be absorbed in the intestines which could provide higher bioavailability.

Fewer veggie gelatin capsules to swallow - 1 cap, not 2 as we don't pack them with unnecessary fillers. That's right, we're filler-free!
Made with 100% clean, renewable energy – a UK first (as far as we know).

Minty fresh caps. - are FDA compliant all-natural, organic compliant, Non-GMO, Vegan, Kosher and Halal certified food-grade flavours encapsulated in a medical and food-grade polymer.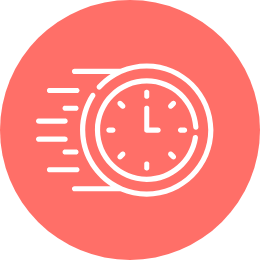 Fast absorption,

faster delivery
Why wait "hours" for your vitamins to absorb? The beauty of JetFuel is in the rapid speed that your body can benefit from the nutrients - under 30 minutes to be precise. High-quality ingredients and smart capsule technology equal a faster absorption rate and improved bioavailability.
JetFuel - fast-absorbing capsules, no
nasties,

just total body fuel
Fuelling your body for the week ahead needs the very best supplementation
Unlike your regular multi's, JetFuel is a class above, take a look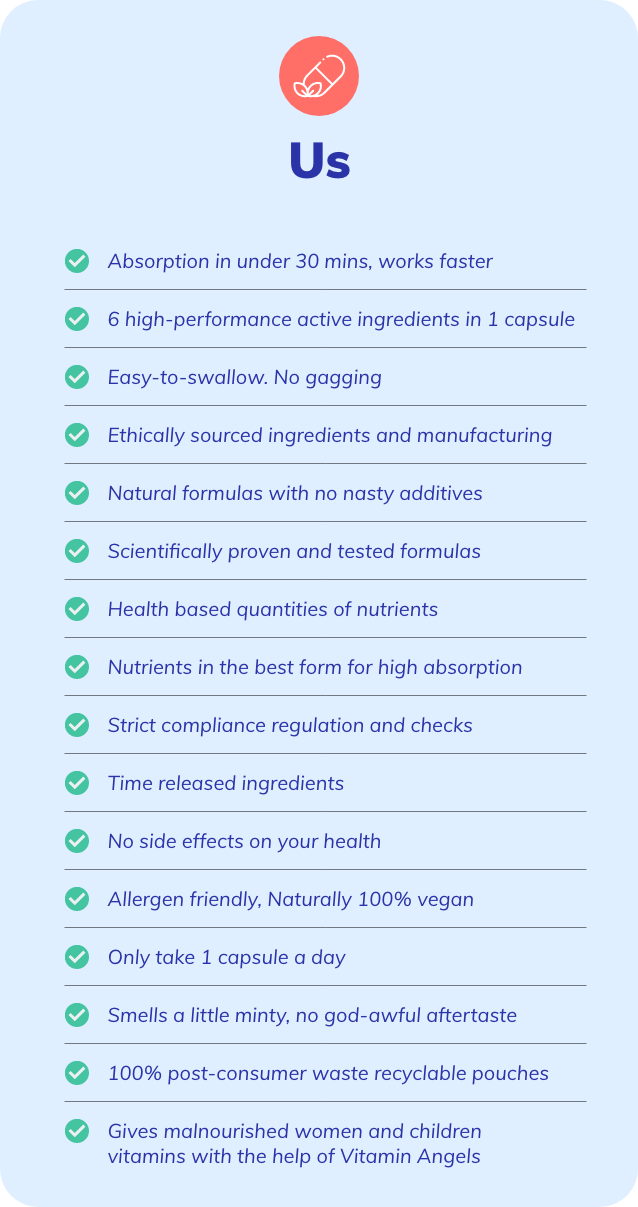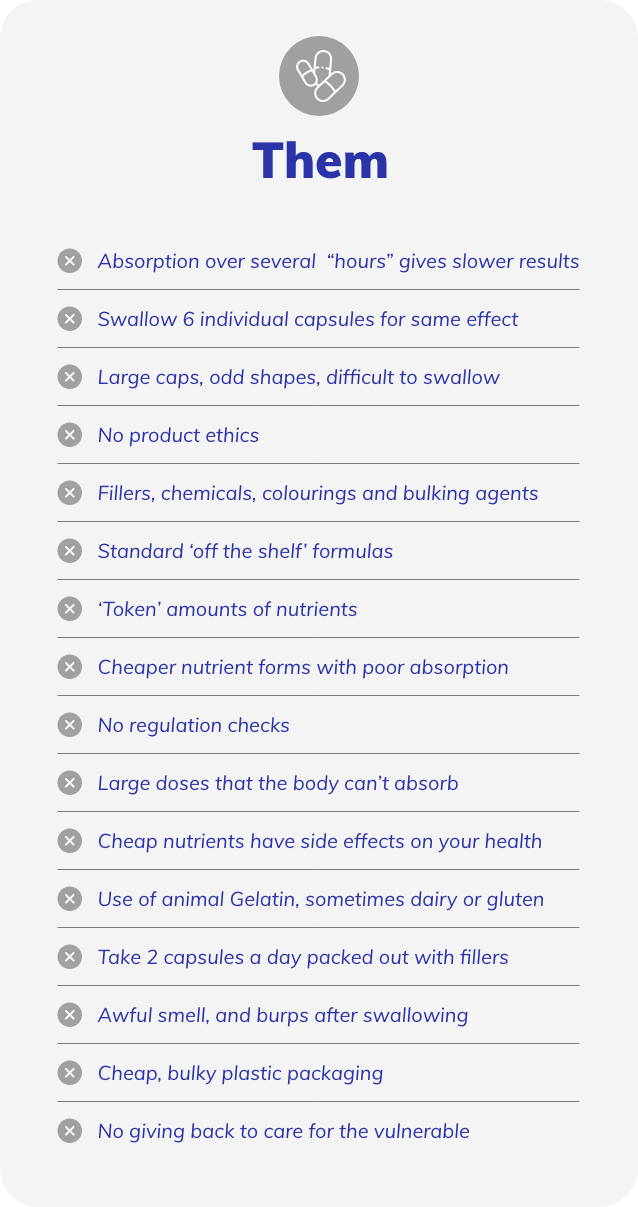 Why are people

so excited?

Find out
Who we are and what we believe in
Become an eco-warrior, without the fight. Do good for your health, the planet and your conscience by supporting sustainability.

We're not mass made.
We're special
Our plant based, filler-free veggie capsules contain zero artificial fillers, as we use alfalfa or wholefood powders, so ours take a little longer to make using extra love and care.
It's why we only drop our monthly vits in small batches.
Join JetFuel's complimentary VIP Health Club, to move to the front of the waitlist to get early door drops before the crowd.
Fall in love

with this planet

we call home
80% of plastic ends up in landfill which could take 1,000 years to degrade. To us, that's just not on.
With 10 million tonnes of plastic ending up in the sea every year and only 7% of plastic bottles being transformed into new bottles, we decided, on every level, to do the opposite of all the other supplement companies.
We found the UK's only environmentally-friendly, ethical supplement manufacturer to partner with (a wonderful 50-year-old family-owned business) and a forward-thinking packaging partner. Both share our vision to 'Use, Reuse and Recycle', manufacturing their packaging from whatever has been recovered.
Together, we simplified.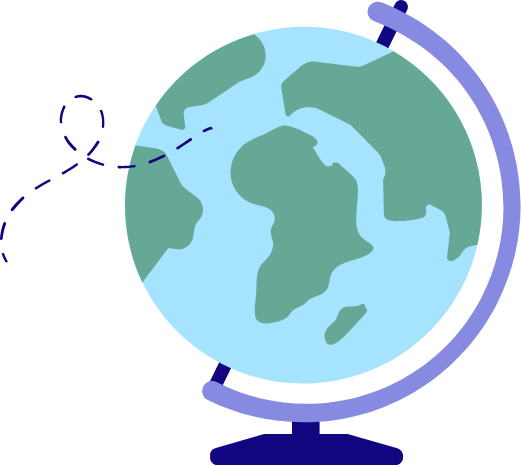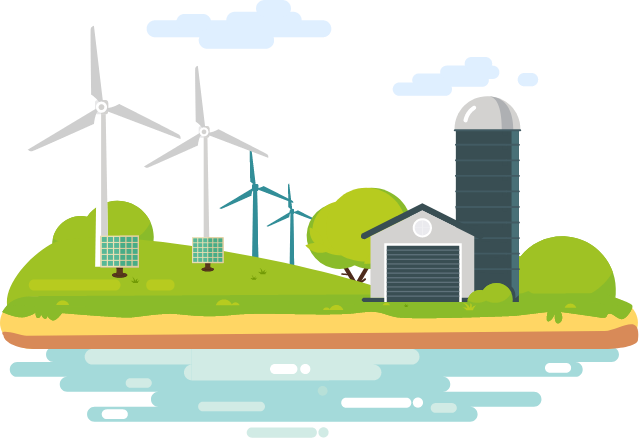 100%

Green-Fuelled vits
Our greener-than-green supplement manufacturer uses 100% sustainable energy, sourced from the greenest energy source in Britain. These folks use wind and sun energy to provide the only "Vegan Society Approved" energy in the UK.
What's more, they decreased their landfill waste by a whopping 80% last year. To do our bit, we packed our vitamins in 100% recyclable pouches. These are designed in line with the global circular economy approach, made from 100% recyclable Polythene post-consumer waste. PE mono material classified, recycle logo 4 to be precise - if you know your stuff.
With no metalized film, our pouches look a bit transparent, so you see our caps in the semi-nude (naughty).
But they're not shy, they've got lots to shout about.
Care for your health

and planet earth's too
Our

100%

recyclable pouches
Resealable:
Keep our capsules in top condition for 3 months (when sealed properly and stored in a cool, dry place)
Shelf Life:
Keep our capsules in top condition for 24 months when unopened.
Cost Savings:
Enable us to invest more in top ingredients to ensure you have the best nutrients at cheaper prices.
Travel Friendly:
Are perfect for on the go, in your gym bag, suitcase or handbag compared to heavy, clunky bottles.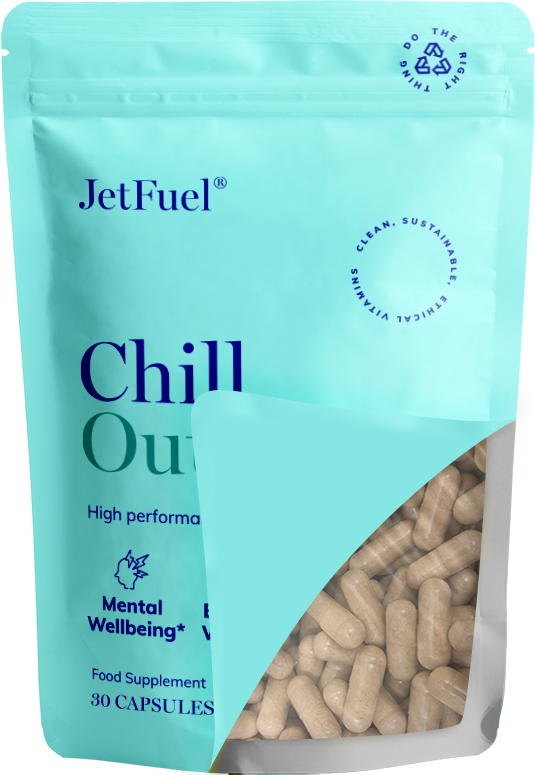 Outrageous health claims?
That's not our style
Did you know that UK and EU Food supplements are regulated as foods? Well, it's true. Yet many vitamin brands aren't compliant, often making outrageous, illegal claims.
Compliance
Here's our beef: many vitamin brands aren't compliant. You see, they make outrageous, often illegal claims… Why? They hope you, the consumer, don't know about or understand the thousands of health claims (it's a mammoth database).
Sadly, this 'snake oil'-fuelled industry is wrought with distrust – where poor communication means consumers don't know what's what anymore?
Transparency
To us - that's not ethical or fair. Trust and transparency are the least you deserve. That's right, there are many supplement brands flying under the radar, falsely plugging the abilities of their "remedies" hoping they don't get called out. And since UK and EU Food supplements are regulated as "foods," we do everything to be totally transparent with our claims.
So while there are a lot of fakes online (y'know, all talk, no trousers), we make it clear only to reference approved and on-hold European health claims.
Ethics
Now, while we're not legally required, we invest heavily in compliance and regulation checks. It can take several weeks AND prevents using sexier language to sell products. But, this ensures our packaging and health claims are legal and don't infer our products can do something they can't.
To sum up. We're completely honest and want you to know that - it's why we set out to be different from other supplement companies. And the investment to make JetFuel vitamins 100% compliant to give you peace of mind and keep you safe, is worth every penny.
JetFuel change


With every purchase of JetFuel, Vitamin Angels UK provides 5 women or children with life-changing nutrients in the UK and around the world.
We believe in the power of vitamins.
That's a lot to take in. Got questions?
Check out our FAQs
JetFuel is a collection of 5 individual filler free vitamins and 3 botanical teas. Together they help balance 5 core health functions; immunity, focus and concentration, sleep, anxiety and stress and beauty.
When should I take JetFuel?
Because our capsules absorb within 30 minutes, you can take JetFuel vitamins daily at the time of day you need support.
Take 'Get in the Zone' when you need to focus and concentrate and 'Sleep Time' just before bedtime or when you need sleep. Take 'Chill Out' when you need to relax and wind down. 'Beauty Glow' and 'Immune Support' can be taken any time of day, but try to stick to a morning routine to build a habit.
Our botanical teas can be drunk anytime throughout the day when you need support and comfort.
We prefer drinking Health first thing in the morning. Performance is perfect for when you need to focus and concentrate. Rest is for when you need to relax and wind down.
How should I take JetFuel
The whole range has been formulated to complement each other so you can take all of them on a daily basis.
Take 1 JetFuel vitamin capsule daily with food.
Can JetFuel be taken with prescription medication(s)?
If you're taking any other medication or are diabetic, please consult your doctor before using JetFuel just to be sure, we don't want you to have any issues.

Love this?

Then check out these